Small Options, Great Improvement
A Complete Warehouse Store for Your Laser Options
High efficiency and premium quality in production are being most concerned by manufacturers. By partnering with trusted industry-leading brands, MimoWork is able to provide the most suitable laser options with the best performance for our clients to further improve the production conditions and achieve a smooth and efficient production flow. MimoWork offers several options covering software, hardware, and replaceable mechanical devices for the laser cutter, laser engraver and galvo laser machine. These multi-functional laser options broaden extensibility and flexibility on processing methods and operation. They simplify pre-preparation, optimize cutting flow and post-treatment.
Except for that, working safety and waste treatment (environment protection) are the highlights that are also worth mentioning. Following your production adjustment and improvement, it is necessary for options to be timely updated and flexibly replaced, which can make a huge difference in your future workflow. Last but not least, customized laser machine options can be realized according to your specific requirements.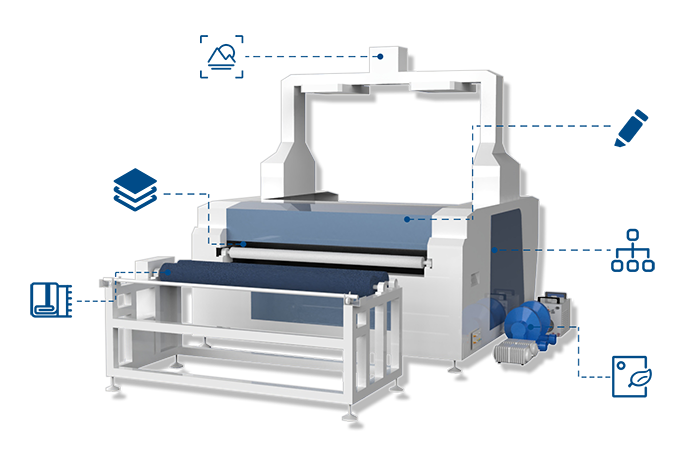 Digital support for easy and precise laser cutting
●  Simplify your laser cutting and engraving flow

●  Digital control system minimizes error
●  Automatic operation saves labor and time
Accurate laser cutting and engraving, graphic design & auto nesting, and additional laser positioning system are supported by well-configured laser software. MimoCUT, MimoNest, MimoPROTOTYPE, MimoPROJECTION help you to realize digital and automatic control while ensuring the right and efficient practical laser cutting.
Helper for accurate laser cutting patterned materials
●  Accurate recognition means precise cutting
●  High automation for convenient adjustment and inspection
●  Suitable for patterned materials
●  Minimal defect by amending print errors
What is optical recognitiong system? For patterned materials, Optical Recognition Systems from MimoWork are necessary to realize accurate recognition and positioning for precise materials outline cutting. Dye-sublimation products such as jersey, sportswear, swimwear, apparel accessories like embroidery patch, print patch, tackle twill number, label, and other applications need to be recognized are usually contour cut by laser cutter with Coutour Recognition, CCD Camera Positioning, and Template Matching.
●  Solid processing guarantee with even and stable laser table
●  Modular and replaceable for different materials
●  Extended functions to enhance efficiency
●  Saving space with customized format
Different materials formats, gram weight, thickness, and density, as well as whether it is flexible or solid, these materials traits determine different choices for the laser cutter table. Except for that, aiming for high efficiency and materials treatment in good condition, MimoWork has developed several Working Table to advance laser cutting & engraving and full working flow for diverse customers' requirements.
●  Continuous feeding and laser cutting

●  Diverse materials adaptability
●  Saving labor and time cost
●  Added automatic devices
●  Adjustable feeding output
Suitable for roll materials with various weight, thickness, smooth degree, elasticity, and format, Feeding Systems with different configurations provide support and continuous feeding for materials at a given speed, ensuring cutting well with flatness, smoothness, and moderate tension. And it's very top efficient and time-saving for Feeding Systems connected with the Conveyor Table.
●  Accurate materials labeling by digital control
●  Ideal for shortening subsequent sewing or alignment
●  Various materials can be marked onto
●  Available for different colors and shapes
Using marker pens and inkjet options, you can mark workpieces to simplify subsequent production. Especially in the case of sewing marks (cutting) in the textile manufacturing sector. For example, in the use of cutting filter cloth, selecting mark pen or ink-jet to mark the alignment lines directly on the piece, saving time and difficulty in subsequent operations.
●  Guarantee for the safe working environment
●  Protect materials from being polluted and damaged
An effective ventilation solution can help one puzzle out the bothersome dust and fumes while minimizing disruption to production. Collocated with the laser enhaust blower, the laser fume Extraction configured in the side or bottom of laser cutter ensures the waste gas treatment and helps you build a safe and clean working environment.
MimoWork laser consultants are here to guide you to find your perfect laser options
Achieve a more smooth and efficient workflow now!