MimoCUT, the laser cutting software, was designed to simplify your cutting work. Simply uploading your laser cut vector files. MimoCUT will translate the defined lines, points, curves, and shapes into the programming language that can be recognized by the laser cutter software, and guide the laser machine to execute.
Laser Cutting Software - MimoCUT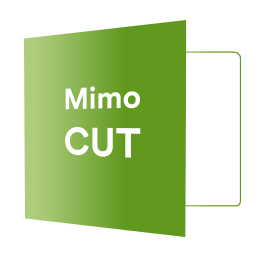 ◆  Give cutting instruction and control the laser system
◆  Evaluate production time
◆  Design pattern with standard measurement
◆  Import multiple laser cut files at one time with modification possibilities
◆  Auto-arrange cutting patterns with arrays of columns and rows
Support Laser Cutter Project Files >>
Regarding the use of CNC routers or laser cutter, the differences in technology of control software for two-dimensional plane cutting are mainly reflected in the path optimization. All the cutting path algorithms in MimoCUT are developed and optimized with customer feedback from actual productions to improve customer productivity.
For the first use of our laser cutting machine software, we will assign professional technicians and arrange tutor sessions one on one. For learners at different stages, we will adjust the contents of learning materials and help you to master the lasercut software quickly in the shortest time. If you are interested in our MimoCUT (laser cutting software), please feel free to contact us!
Detailed software operation | Fabric laser cutting
Laser Engraving Software - MimoENGRAVE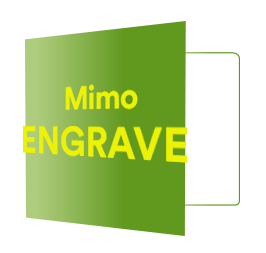 ◆  Compatible with varieties of file formats (vector graphic and raster graphic are available)
◆  Timely graphic adjustment according to the actual engraving effect (You can edit the pattern size and position)
◆  Easy to operate with the user-friendly operation interface
◆  Setting laser speed and laser power to control the engraving depth for different effects
Support Laser Engraving Files >>
Vector: DXF, AI, PLT
Pixel: JPG, BMP
Various Engraving Effects
To meet more production requirements, MimoWork provides laser engraving software and laser etching software for varieties of processing effects. Collocated with the bitmap graphic design software, our software for laser engraver features great compatibility with graphic files like JPG and BMP. Diverse graphic resolutions for you to choose to build different raster engraving effects with 3D styles and color contrast. High resolution ensures more exquisite and fine pattern engraving with high quality. Another effect of vector laser engraving can be realized on the support with the laser vector files. Interested in the difference between vector engraving and raster engraving, inquire us for more details.
Why Choose MimoWork Laser
Laser cutting can be excited but frustrated sometimes, especially for the first-time user. Slicing materials by adopting high concentrated laser light energy through optics sounds easy to understand, whereas operating the laser cutter machine with oneself can be overwhelming. Commanding the laser head to move according to the laser cut files and ensuring the laser tube to output stated power requires serious software programming. Keep user-friendly in mind, MimoWork puts many thoughts into laser machine software optimization.
MimoWork provides the three types of laser machine to match the laser cutter software, laser engraver software and laser etch software. Pick the desirable laser machine with right laser software as your demands!
Choose the laser cut software and cnc laser engraver software that suit you!