Wood Laser Cutter and Engraver
Videos Sharing from Wood Laser Cutting
Laser cut wood christmas ornaments
| | |
| --- | --- |
| Working Area (W *L) | 1300mm * 900mm (51.2" * 35.4 ") |
| Software | Offline Software |
| Laser Power | 100W/150W/300W/ |
| Laser Source | CO2 Glass Laser Tube or CO2 RF Metal Laser Tube |
| Mechanical Control System | Step Motor Belt Control |
| Working Table | Honey Comb Working Table or Knife Strip Working Table |
| Max Speed | 1~400mm/s |
| Acceleration Speed | 1000~4000mm/s2 |
Learn more about 【How to laser cut wood, laser engrave wood】
Benefits from Laser Cutting on Wood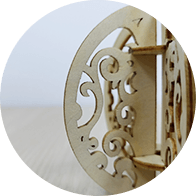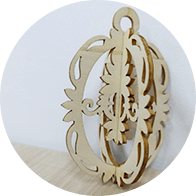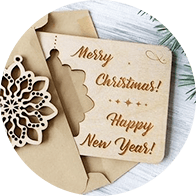 Customized letters engraving
✔  No shavings – thus, easy cleaning up after processing
✔  Burr-free cutting edge
✔  Delicate engravings with super fine detailers
✔  No need to clamp or fix the wood
✔  No tool wear
Recommended Wood Laser Cutting Machine
• Laser Power: 20W
• Working Area: 80mm * 80mm (3.15'' * 3.15'')
• Laser Power: 100W/150W/300W
• Working Area: 1300mm * 900mm (51.2" * 35.4 ")
• Laser Power: 150W/300W/500W
• Working Area: 1300mm * 2500mm (51" * 98.4")
Added Value from MimoWork Laser
✦ CCD Camera: Capable of cutting and engraving the printed wood panel
✦ Mixed laser heads: Give you the accessibility to cut thin metal sheets as well
✦ Lift Platform: Adjust the working table handily to make sure that any thickness of the material can be cut with the most appropriate laser distance.
✦ Autofocus: Adjust the focus height automatically and realize a consistently high cutting quality when cutting materials of different thicknesses.
✦ Working table: Strong, steady and durable to support any solid materials.
Meet your favorable laser system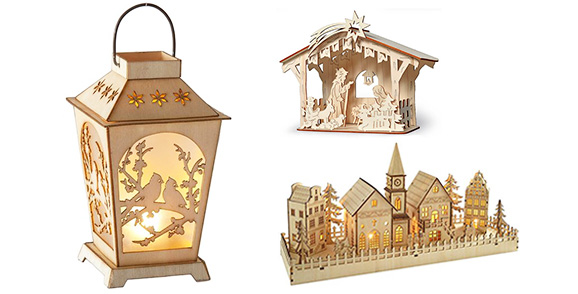 1. Use high tack masking tape to cover the wood surface
2. Adjust the air compressor to assist you to blow out the ashes while cutting
3. Immerse the thin plywood or other woods in water before cutting
4. Increase the laser power and speed up the cutting speed at the same time
5. Use fine-tooth sandpaper to polish the edges after cutting
Suitable Wood Types for Laser Cutting and Engraving
• MDF
• Hardwood
• Bamboo
• Balsa Wood
• Plywood
• Timber
• Veneers
• Solid Wood
Laminated Wood, Basswood, Beech, Cherry, Chipboard, Cork, Coniferous Wood,  Mahogany, Multiplex, Natural Wood, Oak, Obeche,  Precious Woods, Poplar, Pine, Teak, Walnut…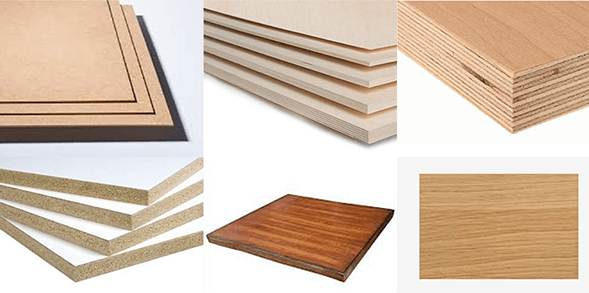 What's your material or application?
Typical Applications for Wood Laser Cutting & Engraving

Wood Tag (Sign), Crafts, Wood Letter, Storage Box, Architectural Models
Toys, Instruments, Wooden Photos, Furniture, Floor Veneer Inlays, Die Boards

Trend of Laser Cutting & Engraving on Wood
Why are woodworking factories and individual workshops increasingly investing in a laser system from MimoWork to their workspace? The answer is the versatility of the laser. Wood can be easily worked on laser and its tenacity makes it suitable to apply to many applications. You can make so many sophisticated creatures out of wood, such as advertising boards, art crafts, gifts, souvenirs, construction toys, architectural models, and many other daily commodities. What's more, due to the fact of thermal cutting, the laser system can bring exceptional design elements in wood products with dark-colored cutting edges and brownish-colored engravings.
Wood DecorationIn terms of creating extra value on your products, MimoWork Laser System can laser cut wood and laser engrave wood, which allows you to launch new products for a wide variety of industries. Unlike milling cutters, the engraving as a decorative element can be achieved within seconds by using a laser engraver. It also gives you the opportunities to take orders as small as one single unit customized product, as large as thousands of rapid productions in batches, all within affordable investing prices.

Interested in how to laser cut wood and the price of wood laser engraving machine, contact us to learn more