Laser working tables are designed for convenient materials feeding and transporting during the laser cutting, engraving, perforating and marking. MimoWork provides the following cnc laser tables to boost your production. Choose the suit one according to your requirement, application, material and working environment.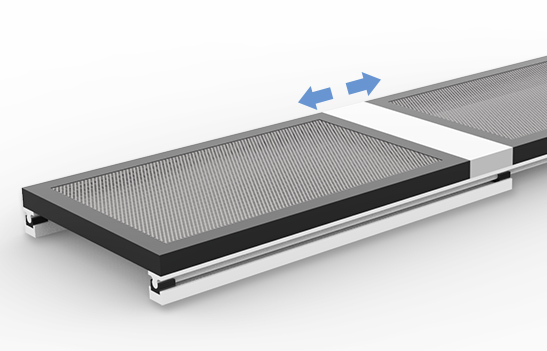 The process of loading and unloading material from a laser cutting table can be a inefficient labor.
Given a single cutting table, the machine must come to a complete halt until these processes have been completed. During this idle time, you are wasting a lot of time and money. In order to solve this problem and increase overall productivity, MimoWork recommends the shuttle table to eliminate the interval time between feeding and cutting, expediting the whole laser cutting process.

The shuttle table, also called pallet changer, is structured with a pass-through design so as to transport in two-way directions. To facilitate the loading and unloading of materials which can minimize or eliminate downtime and meet your specific materials cutting, we designed various sizes to suit every single size of MimoWork laser cutting machines.
Suitable for flexible and solid sheet material
| | |
| --- | --- |
| Advantages of pass-through shuttle tables | Disadvantages of pass-through shuttle tables |
| All work surfaces are fixed at the same height, so no adjustment is needed in the Z-axis | Add to the footprint of the overall laser system due to the extra space required on both sides of the machine |
| Stable structure, more durable and reliable, fewer errors than other shuttle tables |   |
| Same productivity with an affordable price |   |
| Absolutely steady and vibration-free transport |   |
| Loading and processing can be carried out simultaneously |   |
Conveyor Table for Laser Cutting Machine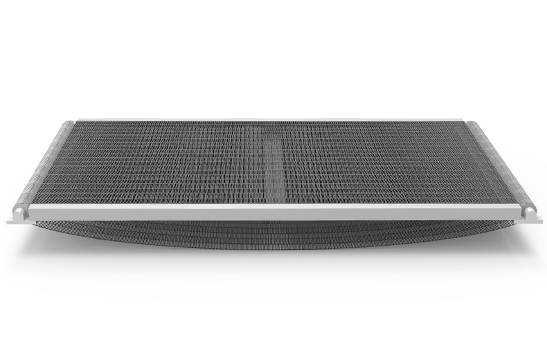 • No stretching the textile
• Automatic edge control
• Customized sizes to meet every need, support the large format
Benefits of the Conveyor Table System:
With the assist of conveyor system, automatic and continuous cutting greatly improve the production efficiency. During which, less time and labor is consumed, reducing the production cost.
Human productivity is limited, so introducing conveyor table instead is the next level for you in increasing production volumes. Matched with the auto-feeder, MimoWork conveyor table enables the feeding and cutting seamless connection and automation for higher efficiency.

• Accuracy and repeatability
As the main failure factor on production is also a human factor – replacing manual work with precise, programmed automated machine with conveyor table would give more accurate results.
In order to create a safer working environment, the conveyor table expands an exact operational space outside of which observation or monitoring is absolutely safe.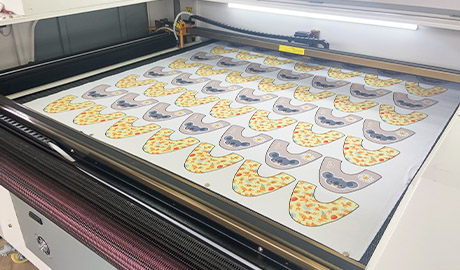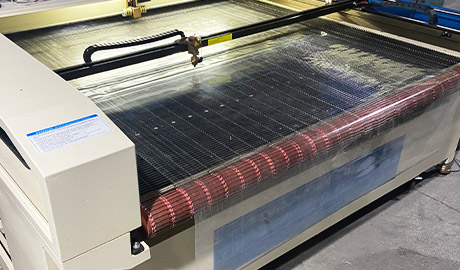 Honeycomb Laser Bed for Laser Machine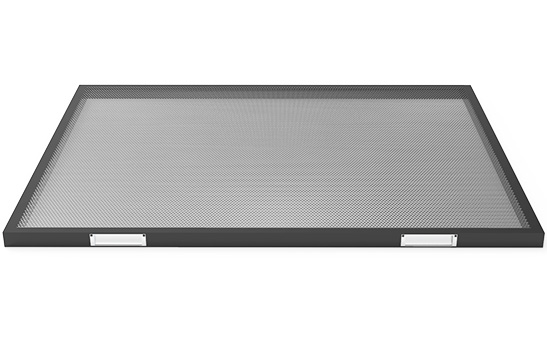 The working table is named after its structure which is similar to a honeycomb. It is designed to be compatible with every size of MimoWork laser cutting machines.The honeycomb for laser cutting and engraving is available.

The aluminum foil allows the laser beam to pass cleanly through the material you are processing and reduces underside reflections from burning the backside of the material and also significantly protects the laser head from being damaged.
The laser honeycomb bed allows easy ventilation of heat, dust, and smoke during the laser cutting process. 
• Suitable for applications that require minimal back reflections and optimum flatness
• Strong, stable, and durable honeycomb working table can support heavier materials
• High quality iron body helps you to fix your materials with magnets
Knife Strip Table for Laser Cutting Machine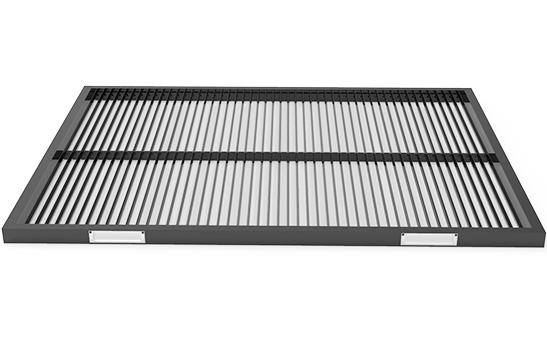 Knife strip table, also called aluminum slat cutting table is designed to support material and maintain a flat surface. This laser cutter table is ideal for cutting thicker materials (8 mm thickness) and for parts wider than 100 mm.

It is primarily for cutting through thicker materials where you would like to avoid laser bounce back. The vertical bars also allow for the best exhaust flow while you are cutting. Lamellas can be placed individually, consequently, the laser table can be adjusted according to each individual application.
• Simple configuration, a wide range of applications, easy operation
• Suitable to laser cut substrates like acrylic, wood, plastic, and more solid material
Any questions about the laser cutter bed size, materials compatibile with laser tables and others
Other Mainstream Laser Tables for Laser Cutting & Engraving
The laser cutter vacuum table fixes various materials to the working table using a light vacuum. This ensures correct focusing over the entire surface and as a consequence better engraving results are guaranteed. Collocated with the exhaust fan, the suction air stream can blow away the residue and fragment from the fixed material. In addition, it reduces the handling effort associated with mechanical mounting.
The vacuum table is the right table for thin and lightweight materials, such as paper, foils, and films that generally do not lay flat on the surface.
The ferromagnetic construction allows mounting thin materials such as paper, films or foils with magnets to ensure an even and flat surface. Even working is essential for achieving optimal results for laser engraving and marking applications.
Acrylic Cutting Grid Table
Including laser cutting table with grid, the special laser engraver grid prevents back reflection. It is therefore ideal for cutting acrylics, laminates, or plastic films with parts smaller than 100 mm, as these remain in a flat position after the cut.
Acrylic Slat Cutting Table
The laser slats table with acrylic lamellas prevents reflection during cutting. This table is particularly used for cutting thicker materials (8 mm thickness) and for parts wider than 100 mm. The number of supporting points can be reduced by removing some of the lamellas individually, depending on the job.
To realize the smooth ventilation and waste exhausting, the bottom or side exhaust blower are installed to make the gas, fume and residue pass through the working table, protecting the materials from damaged. For different types of laser machine, the configuration and assembly for the working table, ventilation device and fume extractor are different. Expert laser suggestion will give you a reliable guarantee in production. MimoWork is here to wait for your inquiry!
Learn more multi-functional laser cutter table and laser engraver table for your production