Felt Christmas Ornaments: Laser Cutting & Engraving
Besides looping "All I Want for Christmas Is You," why not get some laser-cutting and engraving Christmas Felt decorations to infuse your holiday season with personalized charm and warmth?
In the world of holiday decor, Christmas decorations hold a special place in our hearts. The sight of a beautifully adorned Christmas tree or the warm glow of festive ornaments can bring joy to any home during the holiday season. But what if you could take your Christmas decor to the next level, adding a touch of personalization and craftsmanship that sets your decorations apart?
This is where laser-cut Christmas decorations come into play. These exquisite creations bring together the magic of the holiday season and the precision of cutting-edge technology. Laser cutting and engraving have revolutionized the way we approach Christmas decor, allowing for intricate, personalized designs that capture the spirit of the season.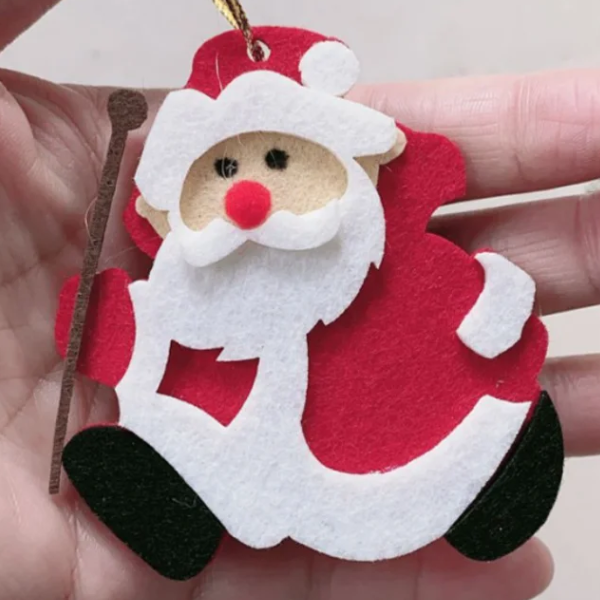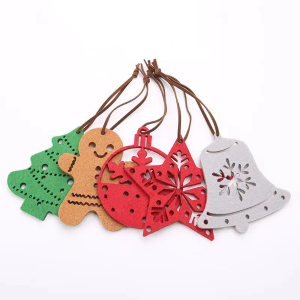 Advantages of Laser Cutting & Engraving Felt Christmas Ornaments
This webpage is your gateway to a world of creativity and craftsmanship. Here, we'll explore the fascinating realm of laser-cut Christmas decorations, sharing insights into how this innovative technology is reshaping holiday traditions. Get ready to embark on a journey that combines artistry, personalization, and the festive spirit to make your Christmas truly unique.
Laser cutting technology offers unparalleled precision, allowing for intricate and detailed designs that are virtually impossible to achieve with traditional methods. Your Christmas decorations will be works of art, showcasing delicate patterns and fine details.
Laser cutting enables you to personalize your decorations with names, dates, or special messages. Whether you're creating ornaments for your own family or crafting gifts for loved ones, the ability to add a personal touch makes your decorations truly unique.
Laser cutters can work with a wide range of materials, from wood and acrylic to felt and fabric. This versatility allows you to explore different textures and create a variety of decoration styles.
Laser cutting is not only precise but also highly efficient. It's perfect for large-scale production or last-minute holiday preparations, delivering quick results without compromising quality.
5. Durability & Reduced Waste
Laser-cut decorations are built to last. The precision cutting ensures that your ornaments won't fray, chip, or wear out easily, allowing you to enjoy them for years to come. Traditional crafting methods often generate a lot of waste material. With laser cutting, there's minimal waste, making it an eco-friendly choice for the environmentally conscious decorator.
6. Endless Creativity & Timeless Keepsakes
The possibilities with laser cutting are nearly limitless. You can explore a wide range of shapes, sizes, and styles, adapting your decorations to match your unique holiday theme or aesthetic. Laser-cut Christmas decorations aren't just for the current year; they become cherished keepsakes that can be passed down through generations. They capture the essence of the holiday season, and their quality ensures they'll stand the test of time.
7. Ease of Reproduction & Safety
If you need multiple decorations for an event, gifts, or a large tree, laser cutting makes reproduction a breeze. You can create identical pieces quickly and efficiently. Laser cutters are designed with safety in mind. They feature protective enclosures and advanced safety mechanisms, ensuring you can enjoy the process with peace of mind.
Embrace the benefits of laser-cut Christmas decorations, and elevate your holiday decor to new heights. Whether you're looking to craft a winter wonderland in your home or searching for the perfect gift, laser-cut ornaments and decorations offer an ideal solution.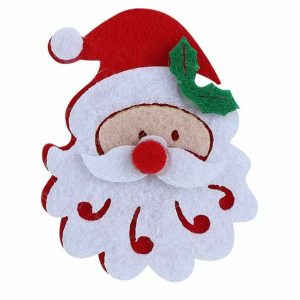 You are Missing Out | Laser Cut Felt
Wood Christmas Decoration | Small Laser Wood Cutter
Running out of Ideas with a felt laser-cutting machine? How to laser cut felt with a felt laser machine? We compiled a list of trending ideas using a felt laser cutter, from custom felt coasters to felt interior designs. In this video we talked about the felt products and applications in our life, there are some cases we bet you never thought about. Then we presented some video clips of us laser cut felt coasters, with a laser cutter machine for felt, the sky is no longer the limit.
How to make wood Christmas décor or gifts? With the laser wood cutter machine, the design and making are easier and faster. Only 3 items are required: a graphic file, wood board, and small laser cutter. Wide flexibility in graphic design and cutting allows you to adjust the graphic at any time before wood laser cutting. If you want to make customized business for gifts and decorations, the automatic laser cutter is a great choice that combines cutting and engraving.
Felt Christmas Ornaments: Where to Start?
When it comes to creating Christmas decorations by laser cutting and engraving, felt materials provide a versatile and cozy canvas for your festive designs. Here are some types of felt materials commonly used for crafting Christmas decorations:
1. Wool Felt
Wool felt is a natural, high-quality material that offers a soft texture and vibrant color options. It's perfect for classic and timeless Christmas ornaments like stockings, Santa hats, and gingerbread men. Wool felt provides a warm and inviting look to your decorations.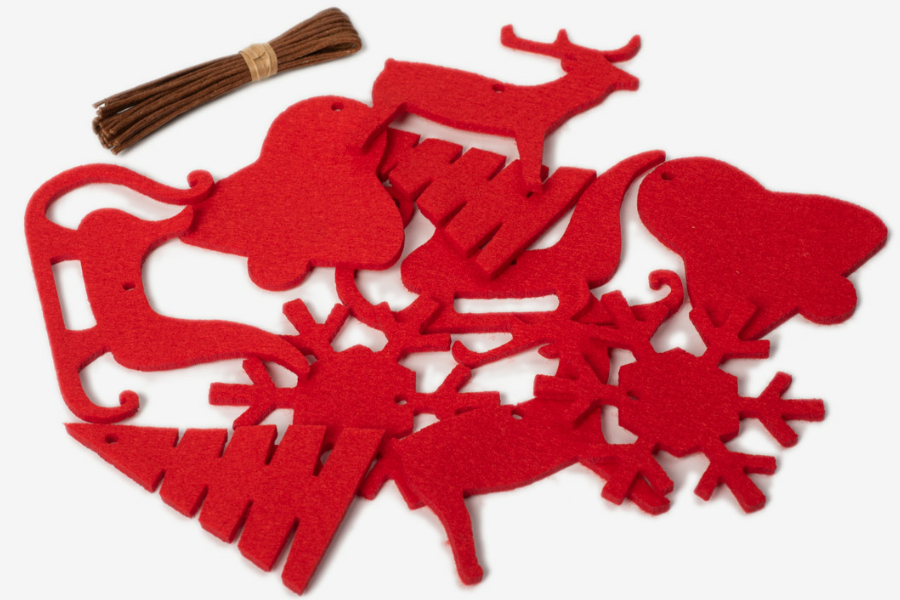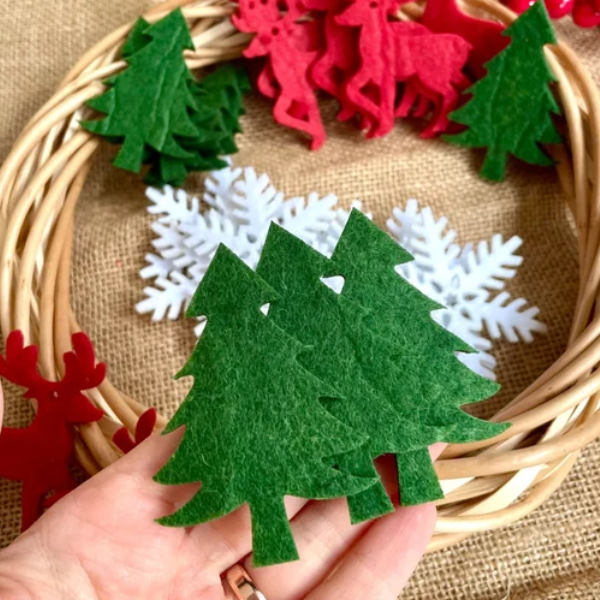 2. Eco-Friendly Felt
For the environmentally conscious decorator, eco-friendly felt made from recycled materials is an excellent choice. It not only reduces waste but also offers a rustic and charming appearance, making it suitable for rustic-themed decorations.
3. Glitter Felt
Add a touch of sparkle to your Christmas decorations with glitter felt. This material is ideal for creating eye-catching ornaments, stars, and snowflakes. Its shimmering surface captures the magic of the holiday season.
4. Craft Felt
Craft felt is widely available and budget-friendly, making it a popular choice for DIY Christmas projects. It comes in various thicknesses and can be easily cut and engraved with laser technology, allowing for a wide range of creative designs.
5. Printed Felt
Printed felt features patterns or designs that are pre-printed on the material. Laser cutting and engraving can enhance these designs, creating unique and eye-catching decorations without the need for additional painting or coloring.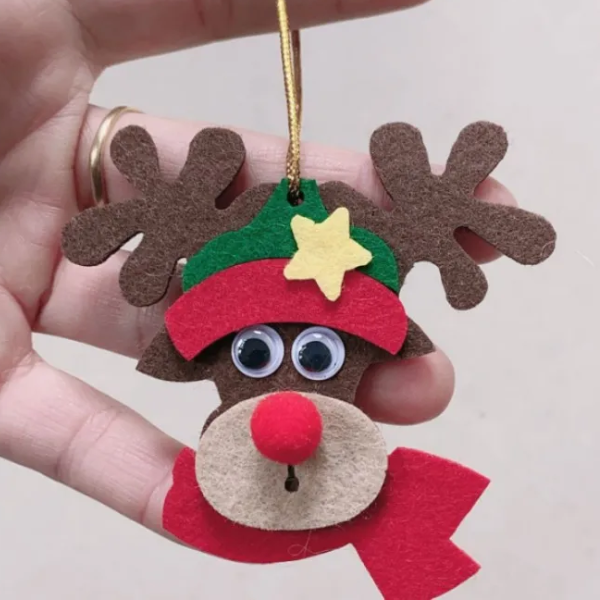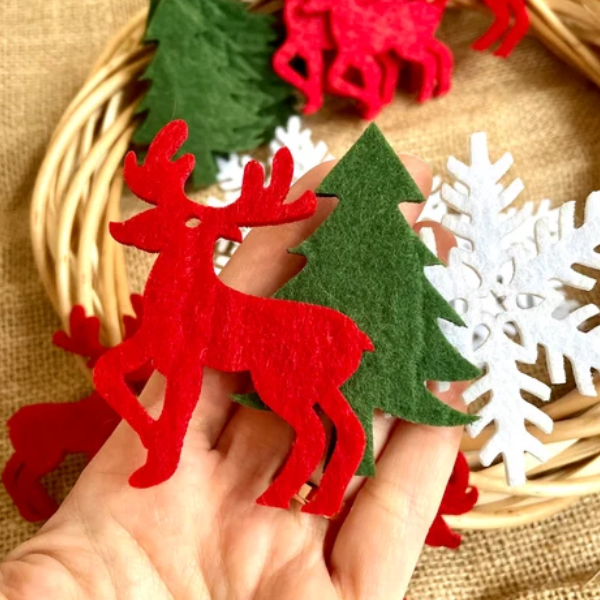 6. Stiffened Felt
If you're crafting three-dimensional ornaments or decorations that require stability, consider stiffened felt. It holds its shape well and is perfect for projects like standing Christmas trees or 3D ornaments.
7. Faux Fur Felt
For decorations that require a touch of elegance and luxury, faux fur felt is a great choice. It adds a soft and plush texture, making it suitable for crafting decorative stockings, tree skirts, or plush Santa Claus figures.
Each type of felt material has its unique characteristics, allowing you to tailor your Christmas decorations to your desired style and theme. Whether you prefer a classic, rustic, or contemporary look, felt materials provide a versatile platform for your laser-cut and engraved designs.
Recommended Laser Cutting Machine
Festive Felt: Crafting Christmas Cheer with Felt Decorations
The holiday season is upon us, and it's time to deck the halls with boughs of holly, twinkling lights, and festive decorations. While there's no shortage of ways to adorn your home for the holidays, one timeless and cozy choice is felt Christmas decorations.
In this article, we have explored the world of felt ornaments, uncovered the secrets of their charm, and even sprinkled in a little holiday humor to keep your spirits high.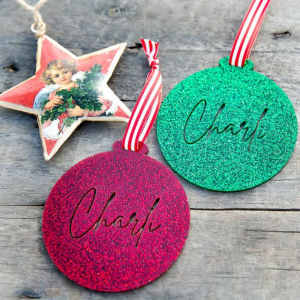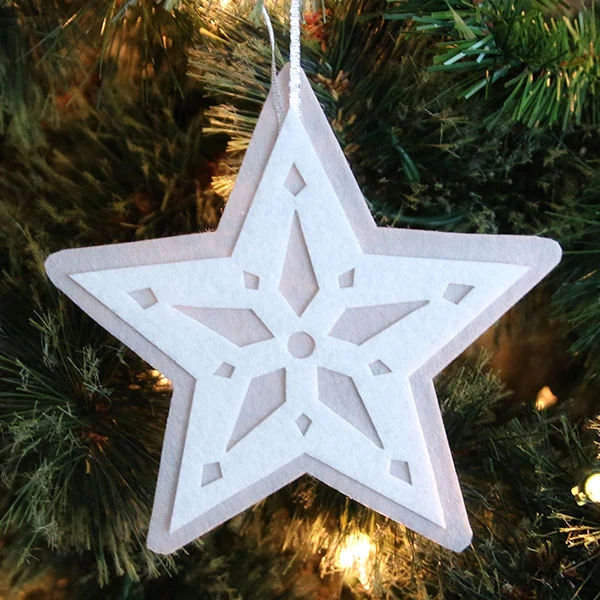 And now, it's time to sprinkle some holiday humor into the mix. We've all heard the classic Christmas cracker jokes, so here's one to add a festive grin to your day:
Why did the snowman call his dog "Frost"? Because Frost bites!
Felt decorations might not bite, but they certainly do add a warm and welcoming touch to your holiday décor.
So, whether you're crafting felt Christmas decorations, shopping for them, or just admiring the beauty they bring to your festive space, embrace the cozy charm of felt and let it become a cherished part of your holiday tradition.
Wishing you a season filled with laughter, love, and felt-tastic holiday cheer!
Discover the Magic of Christmas with Our Laser Cutters
Craft Joyful Felt Decorations and Create Unforgettable Moments
▶ About Us - MimoWork Laser
Elevate your Production with Our Highlights
Mimowork is a results-oriented laser manufacturer, based in Shanghai and Dongguan China, bringing 20-year deep operational expertise to produce laser systems and offer comprehensive processing and production solutions to SMEs (small and medium-sized enterprises) in a wide array of industries.
Our rich experience of laser solutions for metal and non-metal material processing is deeply rooted in worldwide advertisement, automotive & aviation, metalware, dye sublimation applications, fabric and textiles industry.
Rather than offering an uncertain solution that requires purchase from unqualified manufacturers, MimoWork controls every single part of the production chain to make sure our products have constant excellent performance.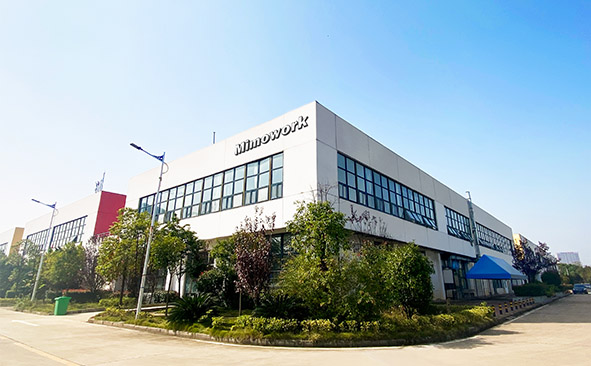 MimoWork has been committed to the creation and upgrade of laser production and developed dozens of advanced laser technology to further improve clients' production capacity as well as great efficiency. Gaining many laser technology patents, we are always concentrating on the quality and safety of laser machine systems to ensure consistent and reliable processing production. The laser machine quality is certificated by CE and FDA.
We Don't Settle for Mediocre Results
Neither Should You
---
Post time: Nov-14-2023