Get it Done at once by Laser PCB Etching
PCB, a foundational carrier of IC (Integrated Circuit), utilizes the conductive traces to reach circuit connection among the electronic components. Why is it a printed circuit card? the conductive traces also called signal lines can be printed and then etched or directly etched to expose the copper pattern which conducts the electronic signals along the given lines. The traditional operation adopts the ink printing, stamp, or sticker to protect the copper traces from being etched, during which, a large amount of ink, paint, and etchant is consumed which can result in pollution and waste discharge to the environment. So more simple and environment-friendly PCB etching - laser etching PCB turns an ideal choice in electronic, digital-control, and scanning and monitoring fields.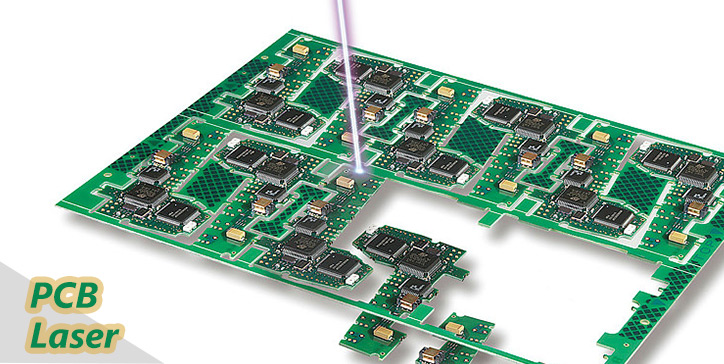 What is PCB etching with laser
About that, you will have a better understanding if are familiar with the laser processing principle. Via the photovoltaic conversion, huge laser energy from the laser source bursts and is condensed to a fine laser beam which comes with laser cutting, laser marking, and laser etching on the materials under the command of different laser parameters. Back to the PCB laser etching, UV laser, green laser, or fiber laser are widely adopted and take advantage of the high-power laser beam to remove the unwanted copper, leaving the copper traces according to the given design files. No need for paint, no need for etchant, the process of laser PCB etching is completed in one pass, minimizing the operation steps and saving time and materials cost.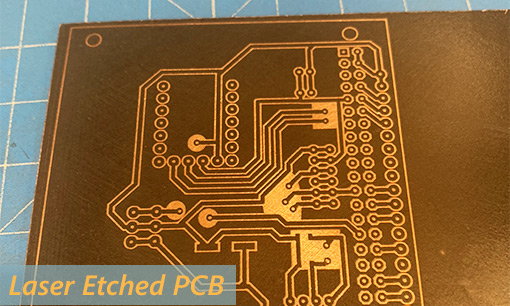 Different from the traditional etching by solution, the laser-etched tracks are to be created along the real circuit contours. So the precision and degree of fine are virtual to the quality of PCB and integrated circuit. Benefiting from the fine laser beam and computer-control system, the laser PCB etching machine perfects the ability to solve the problem. In addition to the precision, no mechanical damage and stress on the surface material due to the contact-less processing make the laser etching stand out among the mill, routing methods.
Why choose laser PCB depaneling
(the advantages of pcb laser etching, marking and cutting)
✦  Simplify the working flow and save the labor and materials costs
✦  Fine laser beam and precise laser path ensure the top quality even for micro-fabrication
✦  Accurate positioning makes the overall flow to be closely matched due to laser optical recognition system
✦  Rapid prototyping and no dies greatly shorten the production cycle
✦  Automatic system and high repeatability complete higher throughput
✦  Quick response to the customized design including special cut-out shapes, custom labels like QR codes, circuit design patterns
✦  One-pass PCB production by laser etching, marking and cutting
…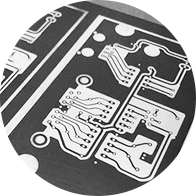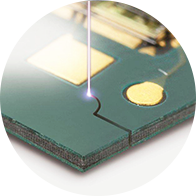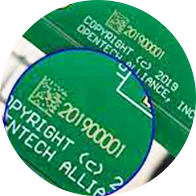 What's more, laser cutting PCB and laser marking PCB can all be achieved with a laser machine. Selecting appropriate laser power and laser speed, the laser machine helps with the whole process of PCBs.
For the PCB processing to a direction in micro and precision, the laser machine is well qualified for PCB etching, PCB cutting, and PCB marking. Recent promising flexible PCB applied to more fields with special performance is can be laser processed. Based on the PCB market and laser technology, investment in a laser machine is certainly an optimal choice. A series of laser options like conveyor working table, fume extractor, and optical positioning software provide reliable support for industrial PCB production.
Interested in how to cut pcb, how to etch a pcb with laser
Who are we:
Mimowork is a results-oriented corporation bringing 20-year deep operational expertise to offer laser processing and production solutions to SMEs (small and medium-sized enterprises) in and around clothing, auto, ad space.
Our rich experience of laser solutions deeply rooted in the advertisement, automotive & aviation, fashion & apparel, digital printing, and filter cloth industry allows us to accelerate your business from strategy to day-to-day execution.
We believe that expertise with fast-changing, emerging technologies at the crossroads of manufacture, innovation, technology, and commerce are a differentiator. Please contact us: Linkedin Homepage and Facebook homepage or info@mimowork.com
---
Post time: May-11-2022