Laser Cutting Synthetical Textiles
Professional Laser Cutting Solution for Synthetic Fabrics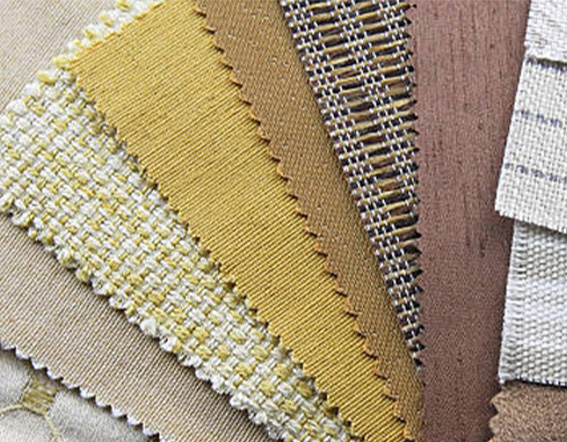 Owing to diversities of excellent performance to meet requirements of daily life and industry manufacture, synthetic fabrics have been developed many practical and consumer-friendly functions, such as resistance of abrasion, stretching, durable, waterproofing, and insulating. Kevlar®, polyester, foam, nylon, fleece, felt, polypropylene, spacer fabrics, spandex, PU leather, fiberglass, sandpaper, insulation materials, and other functional composite materials can all be laser cut & perforated with high quality and flexibility.
High energy and automation processing of laser cutting greatly improve quality and efficiency for industrial composite materials production. By the way, due to the good printing & dyeing performance, synthetical textiles need to be flexibly and accurately cut as customized pattern and shape requirements. The laser cutter will be a good choice with Contour Recognition System. CO2 laser cutters are widely used in cutting functional clothing, sportswear, industrial fabrics with high-precision, cost-efficiency, and flexibility.
are committed to developing professional laser cutting, perforating, marking, engraving technology applied on composite materials and synthetical textiles to offer suitable laser solutions for customers.
Recommended Textile Laser Machine for Composite Materials
Vision laser cutting machine, equipped with an HD Camera on the top, can recognize the contour of the printed fabric and the dye-sublimation sportswear.
The flatbed laser cutter is suitable for most industrial fabric cutting scenarios. With appropriate laser power and speed setting, you can cut a variety of fabrics in one machine.
This large fabric cutter is ideal for large pattern designs. Multiple laser heads can speed up your production.
Fabric Laser Cut Machine for Synthetic Textiles

1. Laser Cutting Polyester
Fine and smooth cut, clean and sealed edge, free of shape and size, the remarkable cutting effect can be achieved perfectly by laser cutting. And the high quality and swift laser cutting eliminate post-processing, improving efficiency while saving costs.

2. Laser Marking on Jeans
Fine laser beam, coordinating with automatic digital control bring swift & subtle laser marking on multi-materials. Permanent mark didn't wear or disappear. You can decorate synthetic textiles, and put marks to identify anyone on composite materials.

3. Laser Engraving on EVA Carpet
Focusd laser energy with different laser power sublimates the partial material at the focal point, thereby exposes cavities of different depths. The three-dimensional visual effect on the material will come into being.

4. Laser Perforating on Synthetic Textiles
Thin but powerful laser beam can fast perforate composite materials including textiles to conduct dense and different sizes & shapes holes, while no any materials adhesion. Tidy and clean without post-processing.
Benefits from Laser Cutting Synthetic Materials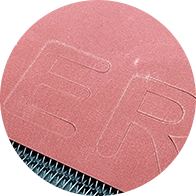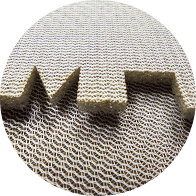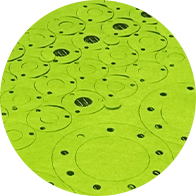 High quality mass processing
✔  Flexible shape and contour cutting
✔  Clean and flat edge with heat sealing
✔  No material pulling and distortion
✔  More productive and high efficient
Typical applications for Laser Cutting Synthetic Textiles
Industiral fabric laser cutting machine for synthetic fabric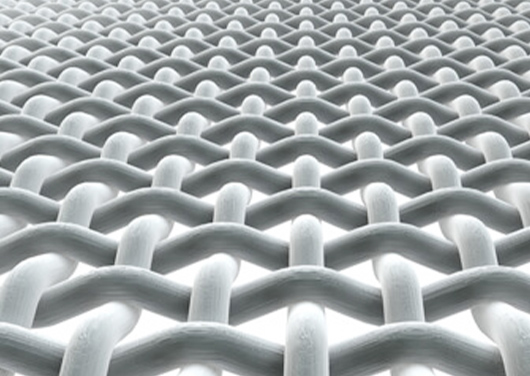 As opposed to natural fiber, synthetic fiber is man-made by a mass of researchers in extruding into practical synthetic and composite material. Composite materials and synthetic textiles have been put a lot of energy into researching and applied in industrial production and daily life, developed into varieties of excellent and useful functions. Nylon, polyester, spandex, acrylic, foam, and polyolefin are mainly popular synthetical fabrics, especially polyester and nylon, which are made into a wide range of industrial fabrics, clothing, home textiles, etc. The laser system has excellent advantages in cutting, marking, engraving, and perforating on synthetic textiles. Clean edge and accurate printed pattern cutting can be perfectly achieved by specialized laser systems. Let' know your confusion, our professional and experienced laser consultant will offer customized laser solutions.
Aramids (Nomex), EVA, Foam, Fleece, Synthetic Leather, Velvet (Velour), Modal, Rayon, Vinyon, Vinalon, Dyneema/Spectra, Modacrylic, Microfiber, Olefin, Saran, Softshell…
Related Synthetical Textiles of laser cutting
Looking for a commercial laser cutting machine?
Contact us for any question, consultation or information sharing